La prima grande antologica mai organizzata in Italia, dedicata a Joan Mitchell (Chicago, 1926 – Parigi, 1992), una delle pittrici americane più importanti del XX secolo.
L'esposizione presenta 46 opere – alcune di grandi dimensioni – provenienti da alcuni dei maggiori musei americani (Whitney Museum of American Art di New York, Smithsonian Museum di Washington, National Gallery of Art di Washington), dalla Joan Mitchell Foundation di New York e dalla Cheim & Read Gallery di New York, e da musei (Centre Pompidou, Musée de Beaux-Arts di Nantes, FRAC Haute Normandie, Fondation Maeght di St. Paul de Vence) e collezioni private francesi, in grado di coprire l'intero percorso dell'artista, dal 1950 agli ultimi dipinti realizzati nei giorni immediatamente precedenti la sua scomparsa. L'opera di Joan Mitchell può essere considerata un ponte tra la pittura americana e quella europea. Dapprima protagonista dell'Espressionismo Astratto americano – negli anni Cinquanta, quando viveva in quella New York – faceva parte del gruppo di mitici pittori, tra cui Pollock e De Kooning, con il quale sarebbe restata fino alla fine in rapporti di fraterna amicizia – che avrebbe scalzato Parigi dal ruolo di centro dell'arte mondiale e segnato l'affermazione della metropoli americana come luogo propulsore dell'innovazione artistica – e successivamente, a partire dal suo trasferimento a Parigi alla fine degli anni Cinquanta, creatrice di una pittura che rivisita le esperienze di Van Gogh e di Monet, e che riesce a trasmettere, attraverso una gestualità astratto-informale e colori squillanti, le emozioni provate di fronte alla natura (campi, giardini, alberi, fiori) e i sentimenti suscitati in lei da alcune vicende della sua vita.
L'esposizione è promossa dalla Provincia di Reggio Emilia, con il contributo di Fondazione Manodori, CCPL, Tecton, Grasselli, BFMR&Partners Dottori commercialisti, Studio Legale Sutich-Barbieri-Sutich di Reggio Emilia e con il contributo speciale della Terra Foundation di Chicago, della Joan Mitchell Foundation e della Cheim & Read Gallery di New York.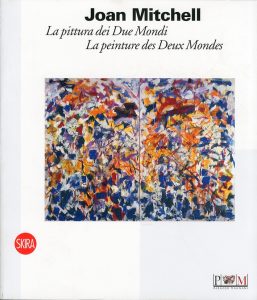 Joan Mitchell. La Pittura dei Due Mondi
Skira, 2009
24×28 cm; 232 pagine