Music and Spiritual in Art
From the spiritual abstraction of Wassily Kandinsky to the enlightened silence of John Cage
Works by Max Klinger, Paul Klee, Arnold Schönberg, Constantin Čiurlionis, Marianne Werefkin, Oskar Fischinger, Fausto Melotti, Nicolas De Staël, Giulio Turcato, Robert Rauschenberg
An itinerary between art and music that extends from Kandinsky to Cage exploring the ideas of interiority and spirituality as open themes that encompass many influences.
From the end of the nineteenth century to our own day, a central thread unwinds which links music to developments in modern and contemporary art. There is no artist who has not had to face the immateriality of the sister-art, with its sovereign independence from the world of the visible and the goals of replication.
The exhibition is promoted by Fondazione Palazzo Magnani and Skira Editore, with the participation of the Ministry of Cultural Heritage and Tourism, the Municipality of Reggio Emilia, the Emilia Romagna region, the province of Reggio Emilia, Fondazione Cassa di Risparmio Pietro Manodori, and the Reggio Emilia Chamber of Commerce.
The project, curated by Martina Mazzotta, is honoured to have an important academic committee, chaired by Paolo Repetto and including Enzo Bianchi, Gillo Dorfles, Michele Porzio, Peter Vergo.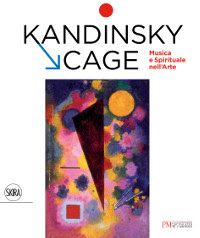 Kandinsky Cage. Musica e Spirituale nell'Arte
Skira, 2017
24×28 cm; 256 pages
22 color illustrations