Immaginario, Utopia, Liberazione (1960-1977)
The exhibition that investigates the genesis of the transformation in conceiving and experiencing sexuality that took place between the '60s and the '70s, as seen through more than 300 historical artifacts: film sequences, authors' photographs, comics, magazines, books, movie posters, music tracks, multimedia installations, set ups with design objects, music and much more.
The exhibition develops over a series of thematic areas, marked by symbolic objects: the contraceptive pill, the vibrator, the orgone, the super 8 film, the whip, the miniskirt.
This is a journey that presents multifaceted materials and some shots by important photographers such as Paola Mattioli, a punctual socio-cultural analysis of a disruptive and revolutionary history in five section: Sexology and Philosophy; Publishing Houses and Culture In the 50s and 60s; The Underground Movement; Pornography; and Sexual Revolution: Victory or Defeat?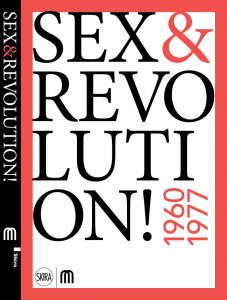 SEX & REVOLUTION!
Immaginario, utopia, liberazione 1960-1977
16,5 x 24 cm; 264 pages; 228 illustrations
Skira editore, Milano 2018