A dialogue between 12 Italian and Belgian artists on the link between art and life. The project is a collaboration between Palazzo Magnani Foundation and CENTRALE for contemporary art (Brussels)
This exhibition, proposed in 2018-2019 under the curatorship of Marina Dacci (The material life. Eight rooms, eight stories, Reggio Emilia, Palazzo da Mosto, November 17th 2018 – March 3rd 2019), has been redesigned for CENTRALE, the contemporary art centre of the City of Brussels, in collaboration with its artistic director Carine Fol and is part of an exchange through the presentation of Sophie Whettnall's exhibition Universo Dentro at Chiostri di San Pietro from May to July 2021.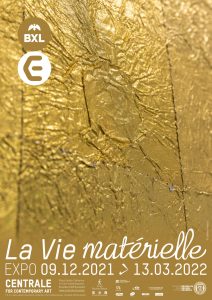 La Vie matérielle, named after the book of the same name by Marguerite Duras, explores and relates the artistic journey to personal experience.
Both Duras' book and the works in the exhibition are defined by a constant dialogue between ordinary everyday life (of which the body is a crucial element) and the inner, intimate life, torn between its deepest aspirations and reality.
By reusing, hybridising, diverting or decontextualizing organic materials and everyday objects and giving them a new life that transcends their usual use, the artists in the exhibition bridge the divide between artistic disciplines.
Despite their very different approaches and perceptions, what Chiara Camoni, Alice Cattaneo, Elena El Asmar, Serena Fineschi, Ludovica Gioscia, Loredana Longo, Claudia Losi and Sabrina Mezzaqui have in common is the use of often modest materials that are traditionally associated with crafts.
They are joined by Léa Belooussovitch, Gwendoline Robin, Lieve Van Stappen, Arlette Vermeiren, four Belgian artists whose artistic practices are close to those of their Italian counterparts.
All of them seek a 'refuge' for the 'self' in the world, inspired the regeneration of objects and materials that are dear to them.
Through provocative or questioning narratives, fragile or energetic stagings, these very diverse works (assemblages, videos, drawings, sculptures, installations) blend the finished and the unfinished, the knowing and the sensing.
The exhibition integrates and explores several senses, in particular vision and touch, through a journey that takes the viewer inside a kind of emotional and mental spider's web, hoping that at the end of the journey, we will have gained new perspectives on how we perceive and read our shared 'material world', and the link that art allows us to create between our body and our inner world.