La mostra Edward S. Curtis. L'eredità degli indiani d'America presenta – per la prima volta in italia – 150 fotografie originali, provenienti dalla più importante collezione privata americana, del fotografo che documentò tra la fine dell'ottocento e i primissimi anni del novecento, i volti di capi-tribù e di semplici uomini e donne, la vita quotidiana, gli ultimi villaggi degli indiani d'America, quello che restava di un popolo e di una civiltà che stavano per scomparire. In trent'anni di spedizioni presso le tribù del nord degli Stati Uniti, Curtis raccoglie 40.000 fotografie e registra 10.000 canti, oltre al complesso della tradizione orale, in 1.000 lingue diverse. Il suo lavoro ebbe come frutto la pubblicazione della enciclopedia in venti volumi intitolata The North American Indian e la costituzione di uno straordinario archivio fotografico di oltre 40 mila negativi. Il primo volume di 'The North American Indian' viene pubblicato nel 1907, il ventesimo nel 1930. Questo monumentale progetto venne definito da The New York Herald come "la più grandiosa impresa editoriale dopo la traduzione della Bibbia autorizzata da re Giacomo I all'inizio del 1600". L'occhio attento di Edward Curtis (soprannominato "Shadow Catcher", cacciatore d'ombre) ha immortalato, tra gli altri, Nuvola Rossa, Chief Joseph, Medicine Crow.
Edward Sheriff Curtis (1869-1952) nasce nello stato americano del Winsconsin, una zona dove gli indiani erano ancora numerosi. Ha ventun anni quando il massacro di Wounded Knee segna la fine della cultura indiana. Inizia a riprendere gli Indiani della riserva di Puget Sound. Probabilmente l'idea di raccogliere un'ampia documentazione sulla vita e le tradizioni delle tribù indiane dell'America settentrionale nasce intorno ai primi anni del 1900. Si trattava di documentare con parole e foto la storia, lo stile di vita, le cerimonie, le leggende e i miti delle tribù indiane ancora raggiungibili.
La mostra è promossa dalla Provincia di Reggio Emilia, con il contributo della Fondazione Pietro Manodori di Reggio Emilia e di CCPL Reggio Emilia.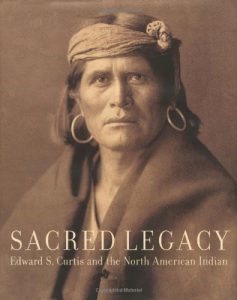 Sacred Legacy: Edward S. Curtis and the North American Indian (Inglese)
Simon & Schuster, 2000
192 pagine